The Benefits of Cultured Stone over Natural Stone with NIS Construction Inc. & General Contractors in Dallas, Texas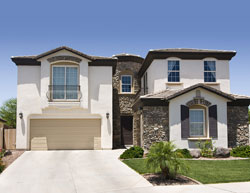 Natural stone can be an extremely attractive, distinctive, and memorable type of exterior siding. The problem, however, is that stone isn't always the most practical option because of its cost, difficult installation process, and waste factor. However, at NIS Construction Inc in Dallas, Texas Home Improvements, we offer a gorgeous alternative in the form of cultured stone. This stone veneer product has been designed to replicate the beauty of natural stone without its notable limitations, making it a compelling investment into homes of all types and sizes.
Stone siding, unsurprisingly, can be extremely heavy and may require wall ties and footings in order to be installed on the home. This can be an issue because not all homes can support the weight of natural stone. Furthermore, the difficulty and potential high cost of installation can be prohibitive. Veneer stone, on the other hand, is made from molds of real stone, but is much lighter and has been designed to adhere easily to a variety of surfaces. As a result, it's a far more practical option for installation on nearly any building plan and can even be installed easily in both the interior and exterior of the home as well. Plus, natural stone has a tendency to cost as much as two to three times as much as stone veneer.
At NIS Construction Inc in Dallas, Texas Home Improvements, we are a full-service home remodeling company with extensive experience meeting the siding needs of local homeowners throughout the area. We're proud to offer a variety of siding options to choose from, including cultured stone veneer, so no matter your unique aesthetic preferences, you're sure to find the ideal siding solution in our inventory. If you have been considering investing in natural stone to accent the exterior of your home, contact NIS Construction Inc in Dallas, Texas Home Improvements and schedule a design consultation with one of our experienced professionals and learn about the siding installation service we offer.
One of the most significant advantages to working with the experienced team at NIS Construction Inc in Dallas, Texas is that we are your one-stop-shop for all of your remodeling needs. We handle everything from the initial design process to securing necessary permits, installing the siding, and servicing any of your needs with our 24-hour service and warranty hotline. We also understand that deciding among the available options for your home can sometimes be confusing and stressful because you want to ensure that your new siding will look great on your home. This is why we're so proud to offer our customers access to our state-of-the-art design imaging visualizer, which allows you to upload a digital photo of your home into our software and see what the final product will look like before the project even begins.